Mountain Cycling Trails & Tours in Darjeeling
Mountain Biking in Darjeeling is drawing a growing interest among both locals and tourists. Several adventure activity operators have ramped up their stock of mountain cycles with good quality modern bikes and are offering both organized group cycling tours in Darjeeling hills as well as rentals.  
In January 2017, Darjeeling became the only place in the country to have an exclusive Mountain Biking Park. And this dedicated cycling park stretches for 20kms through the Senchal Wildlife Sanctuary which has its main gate at Jorebungalow (near Ghum). 
View on the way to Cycling Park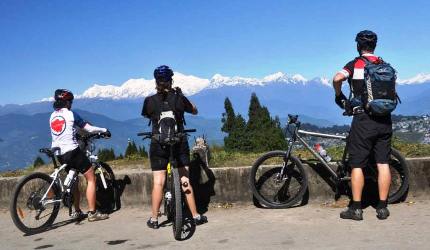 Photo: Offroad Adventure 
It takes about 30-minute cycling time to reach the sanctuary gate from Darjeeling town center. The distance is about 8kms. One can either take the Hill Cart Road (i.e. the National Highway NH55) or take another quieter road via Aloobari (Toongsoong road). Both these roads meet at Ghum. 
The cyclists can buy entry tickets to the cycling park at the gate of the Sanctuary in Jorebungalow for INR 50/- per person. Cars & motorbikes are not allowed on this trail. The cycling trail in the park passes through lovely forested area full of pines and conical trees. The trail offers several spectacular view points for watching wonderful mountain landscapes and the sanctuary. 
In 1915,
Senchal Wildlife Sanctuary
was declared as a sanctuary to ensure protection of wildlife. You can see plenty of wild boars, barking deer, rabbits etc. Clouded Leopards and even Black Himalayan bears have also been spotted at the outer reaches of the forest. The large Senchal lake at the sanctuary is the main water reservoir for Darjeeling. The view of the lake is one of the great attractions on the trail. 
On the way to the Cycling Park gate at Jorebungalow, you get magnificent views of Kanchenjunga. 
The trail through the Cycle Park finally ends at the West Bengal Forest Development Corporation (WBFDC) Guesthouse which is located inside the park in a place known as Chatakpur . 
Chatakpur
is a small mountain village located at an elevation of 7,887ft. There are couple of WBFDC cottages here for tourists each with two rooms. Several simple homestay accommodations too have come up here for night stays and they are owned & run by the local villagers. 
Once you cycle to Chatakpur, you can either stay there overnight or return to Darjeeling after some refreshment. However note that you can not eat food while on the trail, drinking water is allowed though. The Cycling Park trail has a gentle slope and is not very difficult. 
The grade of the trail is considered 'Moderate'. Soon after the entry into the park, the trail becomes a gravel road full of boulders. You can stop at several points along the trail to enjoy the views. 
Note that the Cycling Park is open throughout the year from sunrise till sunset except in monsoon (June 15 to September 15) when the sanctuary remains closed. This is the animal breeding time. 
Several adventure tourism operators offer guided Mountain Biking Tours in Darjeeling Hills. Some of the cycling tour destinations include Lamahatta, Pokhribong, Maneybhanjan, Kurseong etc and now with opening of the Cycling Park through Senchal forest, Chatakpur is fast becoming popular too. Most of these are day trips starting in the morning and returning before sunset. 
Mountain Bike Rental & Tour Operators
The operators offer good quality bikes of well known makes such as Trek, Conandale etc. Tours include tour guide, helmets, bike, lunch, tea, first aids, transfer to a point from where the tour starts etc. Along the way you can expect to pass through forested trails, villages, temples, view points etc. 
You can also rent a Mountain Bike for approximately Rs. 800/- per day and be on your own. However during high season, rentals may be limited as most cycles get used in guided tours. So call up an operator and book your rental well in advance. 
Several operators including Offroad Adventures, Adventures Unlimited etc offer mountain biking tours in Darjeeling and surrounding areas. Visit
Adventure Sport Operators in Darjeeling
to know about all such operators, their offers and what you can expect. 
Related Articles
Visitors' Reviews/Comments
Anita (October 2018) 
Hello Raj, Am coming to Darjeeling on the 25th from Sandakphu. Leaving on 27th. Please tell me if the following is a good plan. 26th - Go to Tiger Hill to watch sunrise. Then to Senchal to cycle through the park. Return to Darjeeling for lunch. Please tell me whether I should hire a cycle through a tour operator or hire  one outside the park? If my friend cannot cycle can she take a jeep ride through the park? Should I go to Tiger Hill the 27th morning before leaving to Gangtok and go straight to the park on 26th? Please answer. Thank you. 
Raj (darjeeling-tourism.com) October 2018 
Hi, you should go straight to the park on 26th morning, go all the way up to Chatakpur, take some refreshments and get back to Darjeeling. Visit Tiger Hill next morning. Get your bike through a tour operator in Darjeeling, you won't get bikes on rent outside the park gate. Vehicles are not allowed on the cycling trail. But your friend can take a car and meet you at Chatakpur which can be reached by road (which too goes through the Senchal wildlife sanctuary, but a different route).