Top Bike Tours in Darjeeling
Biking in Darjeeling
Guided bike tours and self driving bikes in Darjeeling is increasingly becoming popular. This is because Darjeeling is not only just a hill town. The district of Darjeeling spans over a large area of 2,100 square kilometers on mountainous terrain and there are numerous tea gardens, quaint and scenic villages, routes passing through forested lands having large varieties of flora including flowering plantations such as rhododendrons and orchids as well as lovely birdlife and even wildlife with high altitude Himalayan animals.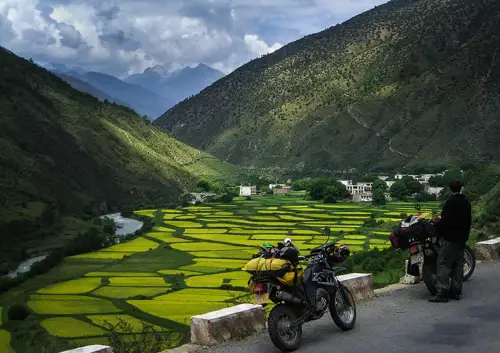 Photo: Matt Ming, flickr, cc by 2.0 
Unlike Sikkim, you do not need any permits in Darjeeling district to move around on your bike. However, biking from Manebhanjan along the route to Sandakphu is no longer permitted because the route goes through Singalila National Park which is full of Himalayan wildlife and the noise pollution caused by the bikes harm the wildlife there. There is otherwise no restriction with bikes in the rest of Darjeeling district.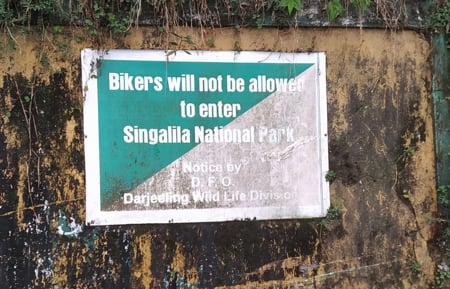 Bike Tour Operators in Darjeeling
There are several operators in Darjeeling who not only offer motorbikes and mountain bikes on rent, they also organize guided bike tours in and around Darjeeling. Below are some of the top operators and their offerings on motor bike tours (you will find more details on each operator under
Tour Operators of Darjeeling
): 
Offroad Adventure
This eco and adventure outfit is run by Sangay Sherpa, a native of Darjeeling and an avid sport & adventure enthusiast. They offer motorbikes (Bullets, Pulsar) on hire on daily rents as well as organize bike tours. They also offer
mountain biking tours
. They were deeply involved in the initiative of inaugurating the
Cycling Park
in Darjeeling which is the first Mountain Biking park in India. They are one of the few operators who offer commercially registered motor-bikes and not privately owned bikes. 
Location & Contacts: 
Location: Off Road Adventure, H.D Lama Road, Near Vodafone Office, Darjeeling. 
Phone : (+91) 9832054944, 9832756130 
Adventures Unlimited
The outfit is owned and managed by a local adventure enthusiast Gautam Shrestha and he supported by his wife. They offer Motor bike and mountain biking tours along with rentals. For motor bikes, they usually provide Royal Enfield makes and in good condition. You can also extend your tours to Sikkim and other nearby areas including Tibbet, Bhutan, Nepal etc. 
Location & Contacts: 
Their office is located only few minutes walk from the Mall and on Zakir Hussain road. 
Hotel Norling Complex, 142/1 Zakhir Hussian Road Darjeeling - 734101  
Blue Dragon Adventure & Travel
The outfit is run by Dawa Gyalpo Sherpa. They offer motorbike tours as well as rentals. They have Royal Enfield bikes. All are well maintained. Bikes are serviced after every trip. They also offer mountain bike rental and customized tours. Some of the popular mountain bike tours include Gangtok Day Trip (Easy), Guided Tea Tour (Moderate), Upper Mustang Trip in Nepal (Hard), East Nepal Trip (Hard), Annapurna Trip (Hard), a special mountain bike trip to explore Darjeeling (Moderate), etc. 
They are one of the longest running adventure companies offering adventure trips in Darjeeling & Sikkim. They had won the National Tourism Award for the year 2018-19. 
Location & Contacts: 
Senchal Rd, Jorebungalow, Rajahata Basti, Darjeeling - 734102 
Phone: (+91) 9593367746 
Himalayan Bike Tour
This outfit is run by Subash Chetri, and enterprising local of Darjeeling. He offers: 
Royal Enfield bikes for hire on daily rate. 
Bike package tours for Darjeeling, Sikkim and Bhutan. 
They are one of the few operators who have their own Royal Enfield 350 CC classic motor bikes in Darjeeling. 
Location & Contacts: 
C.R. Das Road, Upper Bhutia Busti, Near Mall (Chowrasta), Darjeeling (near Deshbandhu Museum). 
Contact Subash Chettri, Email s
[email protected]
; Mobile: +91 9733010482 / 7866830106 
Related Articles
Visitors' Reviews/Comments
Argha Chattetjee (May 2022) 
Hi Sir, I have one small ask. May I visit Tonglu, Tumling by my own Bike? Or I have to end my journey at Manebhanjan? Which is the last point where I can visit by my bike on that road. Regards, 
Raj (darjeeling-tourism.com) May 2022 
Bikes are not allowed beyond Manebhanjan. 
Azhar (January 2022) 
Hi Raj, We are planning 4 days 3 night bike trips to offbeat places in Darjeeling starting from NJP. We are 6 friends with 3 bikes. Kindly suggest us scenic places where we can travel and stay at nights. We are planning the trip in first week of March 2022. We also plan to cover few places in main Darjeeling city, so I want your suggestion if we would be able to cover some parts in Darjeeling city or we should skip it. I read all your answers here and I am really impressed by your suggestions. Waiting for your response here :) 
Raj (darjeeling-tourism.com) January 2022 
Hi, there are numerous routes around Darjeeling through offbeat places. Here is one which I personally like: 
Day-1: From NJP, take the
Mirik route
via Matigara or Sukna/Simulbari, enjoy the views of the tea gardens, take a stop at Tingling viewpoint (8kms before Mirik). At
Mirik
, spend some time at the Mirik lake (you can also take your lunch at Mirik... restaurant at Jagjeet hotel is a good option). Move on along Rishi road and visit
Tabakoshi Tea Village
which is located about 10kms from Mirik (you will need to take a right turn into the village road around 3kms after Mirik), stay overnight here in a homestay. 
Alternatively, from Mirik move on along Rishi Road via Pasupati Market, Simana viewpoint, Sukhiapokhri, and reach
Lepchajagat
. Stay overnight here at a homestay. 
Day-2: From Tabakoshi/Lepchajagat, come to Sukhiapokhri and visit Jorpokhri lake (3kms). Come down to Sukhiapokhri and take the route via Manebhanjan, Dhotrey, Rimbik, and all the way to Srikhola. Stay overnight here... there are small hotels and homestays. 
Day-3: Come down to
Manebhanjan
, retrace the route to Lepchajagat, and continue to Ghum. From here you can turn left on Hill Cart Road if you want to see Darjeeling town (on the way you can see Batasia Loop and Ghum Monastery). If the lockdown continues, all tourist attractions in Darjeeling will likely remain closed and there is no point visiting the town area. Parking will also be a problem in the main town area. 
Come back to Ghum, continue to Jorebungalow, and take Peshoke Road and reach
Lamahatta
. You can stay overnight here in a homestay. 
Day-4: Visit
Tinchuley
and then
Takdah
. Then take the route through the tea gardens (Rungli Rungliot, Namring, Teesta Valley, etc)... the route eventually meets NH10 (Sevoke Road). You can then return to NJP.  
I have discussed many offbeat places around Darjeeling in the following link, you can go through it and design a route of your choice...
Offbeat places in Darjeeling
. 
Good luck!