Jamuni Tourist Complex
This is a recently established tourist spot in Darjeeling. Although the place has always been known for its natural beauty with hills, river, waterfalls, a bridge, village etc in a picturesque valley-like setting, it has been recently converted formally into a tourist place by the Darjeeling authorities. 
It was Subash Ghisingh, the erstwhile leader of the political party GNLF who laid the foundation of the project in January 2006. Subsequently Bimal Gurung, the then leader of GTA (the body administering several sub-divisions of Darjeeling District) pursued the development of the project. However the project went through a series of delays due to shortage of funds and resources. Finally it is being opened formally in early March of 2020 as a tourist complex. 
Jamuni, River Rangeet and the central round lake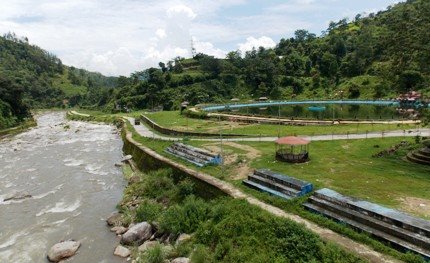 The 13-acre complex Jamuni is located in north Darjeeling. It takes about 45 minutes to reach Jamuni by road (the distance is about 15kms from Darjeeling town). Since Jamuni is at a much lower altitude level, the climate here is warmer than Darjeeling. 
What to see & do
Locals say that Jamuni has now started challenging
Mirik
, because it too has a beautiful lake that offers boating facilities. Since the altitude is lower here, you can also swim in the waters of the lake. However the artificial round lake is much smaller than that of Mirik. 
Overall landscaping of the place is magnificent. The Rangeet River flows through the place and you can see the stream flowing over the rocky bed and for a long distance. In fact you can dip your feet into the water of the stream or even swim (but be very careful, the water current could be quite strong). 
River Rangeet, Jamuni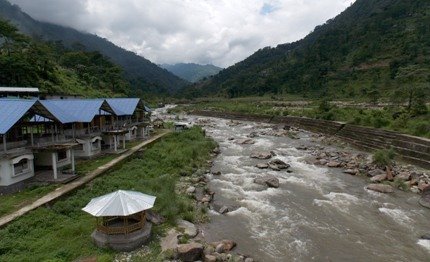 There is a nice bridge here which allows vehicles to cross over the river. You can stand on the bridge and soak in the views all around. The views of the river and that of the landscape looks lovely from the bridge. This bridge has a strange name - Happy New Year Bridge because it was inaugurated on a year beginning (January 1, 2006 by Subash Ghisingh of GNLF). 
Happy New Year Bridge, Jamuni 
This road across the bridge continues to Jorethang of Sikkim which is a settlement through which you can visit places like the cultural & religious center
Namchi
or even the West-Sikkim hill stations such as
Pelling
. Note that only Indian nationals can take this route to enter Sikkim, foreigners can not.  
There is a large structure of Lord Shiva in Jamuni, a children's playground, manicured gardens and nice pathways, a lovely waterfall making it an ideal spot for picnics. You can often find many local families enjoying a picnic here, particularly during winter when this place is warmer compared to Darjeeling. You can do paddle boating at the lake. Four boats have been brought in by the authorities. 
Every year during the winter (usually in December) a local country fair (krishi mela) sets up at Jamuni. Villagers from all over the hills come here selling local produces including vegetables, fruits like oranges, farming & dairy products, cattle etc. This country fair is organized by GTA. 
Accommodations
A hotel has been built at Jamuni having 23 beds. This is being leased out and to be run privately. Apart from this there are 4 riverside cottages that have been built, each having 3 rooms. The cottages are run by GTA (Gorkha Territorial Administration). You can book one of these cottages by visiting one of the GTA tourism offices (for example at the Gorkha Bhavan at Salt Lake, Kolkata). 
Go through
GTA Tourism Offices Info
for further information on the GTA offices (including address and contacts) where you can book these cottages. 
How to reach
The road next to St. Joseph's College (North Point) on Lebong road goes down all the way to Jamuni and continues to connect Jorethang of South-Sikkim. The route goes through lovely tea gardens (Tukvar Tea Estate), farmlands, villages, forests and even orange orchards. The 15kms stretch from Darjeeling to Jamuni takes about 45 minutes by car. 
Private taxis are available from Darjeeling for a day trip to Jamuni. A round half-day trip fare by a small car is Rs. 1800/-. There is also a combination trip offered to Jamuni along with
Ropeway
(Cable Car) ride. On your way back, the cab will drop you at the cable car lower station (Tukvar) and you can then take the cable car back to Darjeeling, having had two great experiences in one day tour package. 
Related Articles
Visitors' Reviews/Comments