Cherry Resort, Sikkim
A Deep Insight
Category: 2.5 Star 
Strangely, there are no signs of the property all the way up to the resort until you enter the property which is nestled deep within the
Temi Tea Garden
and at a higher elevation of the tea estate. But those who have stayed here or know about it also know that this is undoubtedly the best tourist accommodation in Temi, mainly because of its perfect location. 
Style and Character
This is a mid-range hotel, a 3 storey property (Ground + two floors) which belongs to Sikkim Tourist Development Corporation (STDC) and it was earlier known as 'Yatri Niwas' when it was run directly by STDC. However, it has been leased out and is run privately now under the name Cherry Resort. The current lease is a for a period of 30 years and is valid until 2026. 
Cherry Resort, Temi Tea Garden, Sikkim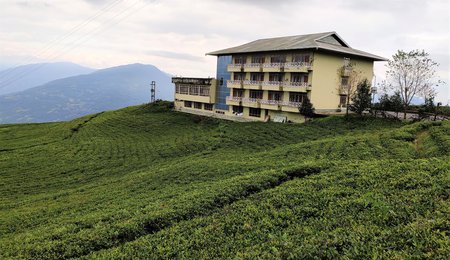 From the main road that meanders through Temi Tea Gardens, a narrow approach road branches off that ends at the resort in about 300 yards and this is the only time when you get to see the steel-finished letters fixed on the property showing the sign of Cherry Resort. 
This approach road (as well as several sections of the main road through the garden) are lined with Cherry Blossom trees on both sides and they bloom in winter (starting in November) creating a lovely pink hue alongside the roads. And this is the reason why this hotel is named Cherry Resort. 
Cherry Blossom (Photo: Cherry Resort)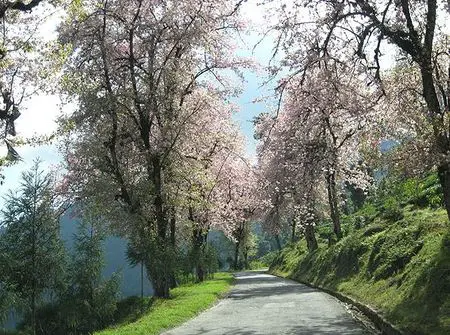 There is a large courtyard in front overlooking a vast downward slope towards south full of tea bushes. The backside of the hotel too overlooks beautiful tea gardens on hilly slopes which is fringed by a village and directly faces the north and has awesome views of Kanchenjunga snow peaks on clear days. 
The building itself is simple in design, basically a yellow colored large box shaped building with three floors and having a triangle shaped gable roof giving it a touch of Sikkimese architecture. As you enter the hotel building, the lobby is fairly large. On the left is the reception desk which is usually manned by the manager. And occasionally in the evenings, you can find the owner (i.e. the current leased holder) Norbu Dadul Bhutia, a polished mid-aged and friendly man at the front desk. 
Cherry Resort, Front Side 
On the right is the large dining room or the in-house restaurant and just before entering the dining room there is a washroom and toilet. The kitchen is adjacent to the dining room. The lobby area has a few sofas with center tables and a flat TV on the wall. There is no elevator in the hotel. A stairway from the lobby leads to the two floors above. 
The lobby area (Photo: Cherry Resort)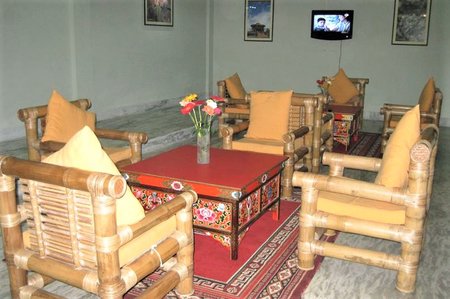 Rooms & Suites
There are some 15 rooms on the front side of the hotel building facing South (5 each on the three floors) and 12 rooms on the backside. While all rooms (both front and back) are similar and have stunning views of the tea gardens, the rooms at the backside facing North have a distinct advantage... they directly face the majestic peaks of Kanchenjunga. 
Our room #320 on 3rd floor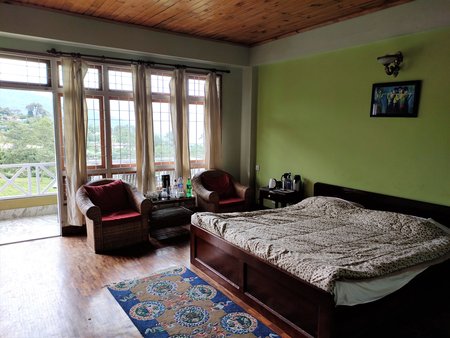 And, higher the floor level of your room, better is the view. That is the reason, although rooms are all similar in decor and amenities, the rooms have progressively higher rates across the floors. But, rates of all rooms on the same floor are the same, whether they face the front or the backside. 
So, make sure you ask for a backside room for the additional advantage of direct Kanchenjunga view. And if you book two rooms, they will push you to take one room on each side because backside rooms are limited and their demand is high. 
View from our room's balcony. Kanchenjunga on sunrise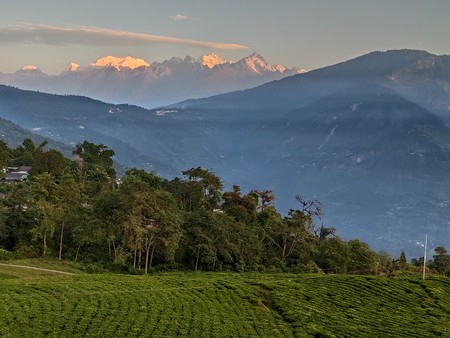 Rooms are spacious and have basic modern amenities such as small flat TV, comfortable queen bed, sitting area with cushioned chairs and a glass table, small bedside carpet, bathroom with geyser etc. The floors are finished with wood-grained vinyl sticky-mats and appear like wood-paneled. 
There are large windows on one side of the room and every room has a private balcony that opens out to the views of rolling tea gardens. Plastic chairs are kept on the balconies. However, try to avoid the rooms at the ground floor facing the front (i.e. the porch)... tea garden view in these rooms are limited and there will be noise of vehicles taking tourists in and out of the hotel during the day time. 
There are no air-conditioning or fans in the rooms... that's because the climate here is such that you don't need them. But in summer mid-days, you would at times wish that such facility was available. There are couple of suites on the top floor which are larger in size and have great views of both the gardens and snow peaks. The amenities are similar though. 
Our room's balcony and tea garden views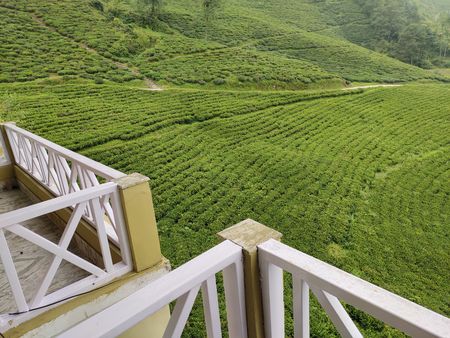 You can clearly see signs of lack of maintenance. When we checked in, the geyser wasn't working. When I informed the reception, they sent a local staff who mentioned that the electrician would come the next day and for now he could offer a temporary but a rather risky solution... he cut off the plug from the cable and inserted the wires directly into the power point, asked us not to touch the wire and keep the geyser 'on' until the man comes next day. The lamp of the geyser wasn't working so there was no way for us to know if the geyser was 'on' unless we checked the water from the tap. Next day, the electrician came and replaced the plug. 
On each floor, there is a small lobby at the corner of the staircase, which is nice. We stayed on the second (i.e. top) floor with north facing rooms with lovely views of Kanchenjunga peaks and tea gardens. On our way to the lobby, a large part of the wood-grained sticky flooring was badly damaged, swelling out in several places and making squeaking sound as we walked over them. When I peeped into few other empty rooms, I saw the room flooring in one of them was damaged too. 
Although they claim there is in-room wi-fi, but that is virtually non-existent. You will mostly remain disconnected from the online word unless you have your own arrangements. There were no ashtrays in the room and that indicated that rooms are all non-smoking. 
Wining and Dining
There is a fairly large in-house dining room at the ground floor which can be accessed from the lobby area. The restaurant mainly caters to the in-house guests. They also have a bar service. The small counter at the corner may not be always staffed... if you don't see any one, just peep through the adjacent kitchen door to notify someone and somebody from inside (usually an young lady) would come and note your order for any food and drinks. 
The tables are laid out across the dining room... on one side some tables are joined to accommodate a larger group of diners. There are large windows and you get nice views of the tea gardens. 
Dining room at Cherry Resort. 
We were lucky to always get the corner table at the far end.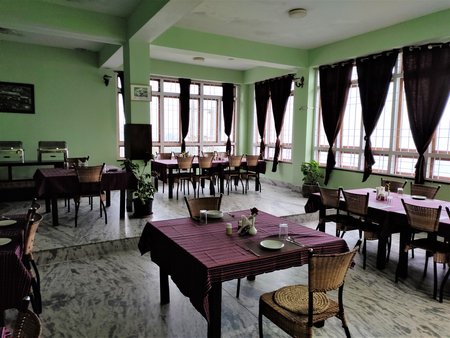 There were two things that irked me a little about this dining area... let me mention that before I come to the food. First... I am not sure if they actually have a bar license or it had lapsed when I was there, because no alcoholic drinks was visible or kept on the glass showcase behind the counter, but it was stuffed with whiskey and beer glasses. When I asked, the lady said they have stock of alcohol. They keep whiskey, vodka and beer (all of low-end brands) under the counter table, hidden from plain eyesight and quickly bring out the bottle and pour it in front of you. Rates, when you compare with any city bar, are quite low... but that probably is because of the state's tax structure. 
You need to usually order your meals little in advance and let them know the time when you want to take it so that they would make it ready accordingly. On two occasions when I went to order my dinner in the early evenings, I saw several drivers occupying the most prominent table right next to the counter and drinking alcohol. There were several guests too who were having drinks on other tables... it looked odd to me that a hotel like this would allow drivers to openly have drinks with guests. 
Now on the food... food is mostly Indian food and limited Chinese dishes (like chowmein, fried rice with chilli chicken etc) made to order. We had breakfast bundled with our room rate. There was a choice of toast and eggs with butter/jam or puri/ paratha with sabji, and tea. It was good enough for us but some might feel the quantity may not be enough. Preparation too was good. 
In lunch or dinner, you can order standard north Indian dishes like roti/rice, daal, some sabji (depending on what they have for the day), chicken etc. The food tasted okay. They also offer room service at no extra cost. You can order meals or even snacks such as pakora and tea to be served in the room. For any special dish such as mutton, talk to the cook in the kitchen at least a day in advance. 
Amenities
There are not many additional amenities in the hotel for tourists. 
You can go over to the front desk and ask for any tourism related information. The manager or whoever is there, will try to help you. They also organize local transports for transfers to your next destination as well as
Sightseeing tours in and around Temi Tea Garden
. Two of the most popular and nearby day-trip destinations are
Namchi
and
Ravangla
, they are in opposite direction from the hotel but each of them can be reached in about an hour by car. 
You can visit the Temi Tea Factory (2.4kms, nice 30 minute downhill  leisure walk) and take a guided factory tour to see tea processing. Opposite to the factory and by the roadside is a lovely section of the garden which has a prominent landmark 'I Love Temi' on it. You can enjoy hot cup of tea and even buy packaged Temi tea from the roadside stalls here which are run by factory workers association. 
There is a large open terrace on the first floor of the building that has several tables and plastic chairs laid out. The tables are made of concrete and permanently fixed to the floor of the terrace and garden umbrellas are sometimes fixed on the tables. You can enjoy a cup of tea and snacks here. The views all around from the terrace is wonderful. 
Open terrace on the first floor (Photo: Cherry Resort) 
For those who stay in the front (south facing) rooms, this terrace is a great place to come and watch the Kanchenjunga snow peaks on clear days, particularly during the sunrise. 
There is a large open car park in the hotel. There is a earmarked area next to the car park for playing badminton. Although some of the young staff play badminton here in the afternoon, there is no net. Even the marking lines of the court are no longer visible. Nevertheless, the young staff would be more than happy if you join them for a game or two which is played in their own rules. 
Staff & Service
The manager is a nice and friendly man and quite helpful. On several occasions he chatted with me and filled me with a lot of information about the tea estate. However most of the remaining staff who are all young ladies and few lads, hail from the nearby village called Nametadhura. I personally support this initiative because this is a great way of helping the local villagers with employment and letting them sustain in life. But there is a flip-side to it as well. 
You will notice a clear lack of professionalism... they do not speak or understand English. They are all Nepali and understand Hindi. But it is often hard to covey a message and make them understand easily... some of them often appear confused. However, one thing you will distinctly feel is their simplicity, warmth and willingness to help, and that compensates for the weaknesses they might have. 
The lease holder or the current owner of the property Mr. Norbu Dadul Bhutia is a perfect gentleman... a polished man in his middle age and speaks fluent English, Hindi and Nepali. He and his family spends most of their time in Gangtok but he also makes himself available at the hotel whenever required. 
I could meet him personally on several occasions and discuss several matters including political scenario in Sikkim. He is a very helpful man and worked out our days plans perfectly as per my wishes and also organized an excellent transport (a brand new Innova Crysta) at a very reasonable rate for us to get around and also for the transfer to our next destination. 
When I asked Norbu... why the property at several places is showing need for maintenance, he mentioned that it was handed over to him when it was in a real bad shape. He struggled hard to keep a balance between the high cost of running the property and keeping it at a decent shape. 
He also went on to say that there is another small property nearby up the hill which too was taken over by him as part of the same deal and that was supposed to be a separate luxury class restaurant which he renovated at high cost, but it hardly received any guests and it is lying closed since. He took me to the hotel's foyer and pointed out towards that property afar... a beautiful location. 
The manager of the hotel later mentioned to me that Norbu never wanted to make big money out of this property. He is running it because he loves this place. He perhaps makes a loss out of it. He is a moneyed man anyway and doesn't need more. He has done whatever he could for this hotel. 
Room Rates
They offer several plans including European Plan (room only), Continental Plan (with breakfast), MAP and AP. Below are the indicative rates for EP (room only) rates for double occupancy: 
Deluxe Room (Ground Floor): Rs. 3,000/- 
Super Deluxe Room (First Floor): Rs. 3,400/- 
Deluxe Royal Room (Second Floor): Rs. 3,800/- 
Suite (Second Floor): Rs. 4,800/- 
Note: If you want CP plan (i.e. with breakfast), the room rate is Rs. 400 more for double occupancy... this is a good plan to go for because it's practically not feasible to take breakfast anywhere else. During the off season or if you book well in advance, you can ask for some discounts. 
You need to pay up 50% as advance to confirm your booking. The balance you pay on check out. 
Check- in time: 1:00 PM; Check-out time: 12:00 NOON 
How to reach
Cherry Resort is located in Temi Tea Garden of South Sikkim. It takes about 4 and half hours from Bagdogra Airport (122kms) and NP station (115kms) to reach the resort by reserved taxi. There is no shared taxi or other mode of transport to Temi Tea Garden. From Gangtok it takes little over 2 hours to reach Temi. Once you reach the Tea Tea Factory area, the resort is further 2.4 kms uphill drive. 
Booking Contacts
Phone No.  +91-8016488737, 9800013666 
Address: 
Cherry Resort 
Temi Tea Garden, South Sikkm, Namchi, Sikkim 737126, India. 
Related Articles
Visitors' Reviews/Comments