Things to do in Darjeeling
For Kids & Families
If you have accompanying kids and children while visiting Darjeeling, you must take into consideration their interests as you make your vacation plan in the hills. Not many hill towns in India give you great options for kids & families. But Darjeeling is an exception. This section is about the great places to visit for Kids and children while you too will be able to soak in the enjoyment and nature's lovely offerings. 
Where else in the country can you find so many opportunities with families & kids like riding the heritage toy train along the steep mountain terrain, visiting a zoological park that features unique & rare high altitude animals, enjoy ethnical dance & cultural programs in a colorfully lighted & landscaped park, take a ride on a cable car with mind blowing views of the valley & tea gardens and many more. 
Check out the links below for details about the places of interest in Darjeeling for kids, children & families. You can either take a
Local Package Tour
to visit some of these places or a private taxi from a taxi stand and get to these places on your own.  
The toy train joyride is probably the most coveted and desired by the kids & families. Imagine that you are riding a cute little toy train with only about two coaches and hauled by a tiny steam engine (all real though). It crawls along the steep terrain of the Himalayas, through the villages, shops and mountain landscapes offering breathtaking views while the village kids wave at you. 
Toy Train, Darjeeling Himalayan Railway (DHR)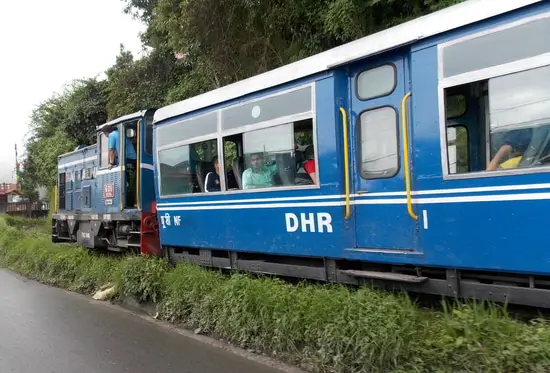 As it moves on narrow gauge track, the steam engine whistles will remind the passers-by to keep a distance. Won't your kids love that?  Tell them that this was the first such train built by the British during 1800s which provided a public transport connection in the mountains for the first time in the world. There are several rides in the morning and in the afternoon each for about 2 hours. The round trip rides start from Darjeeling station. 
Your children will love the zoological park in Darjeeling. It is unique and different from the other typical zoos because of several reasons. First, it houses high altitude animals from the Himalayas and other mountain areas. You will be able to see rare animals such as Red Pandas, Snow Leopards, Tibetan Wold, Yaks and even Siberian Tigers. Second, where else can you see all such animals together and that too almost like in their natural habitats. 
The good news is, the famous Ropeway or the Cable Car ride is open again after having remained closed for several years. Which means your family and children can now take this breathtaking ride on cable cars that start from Singamari station in Darjeeling and go down to the next station Tukvar. 
Darjeeling Ropeway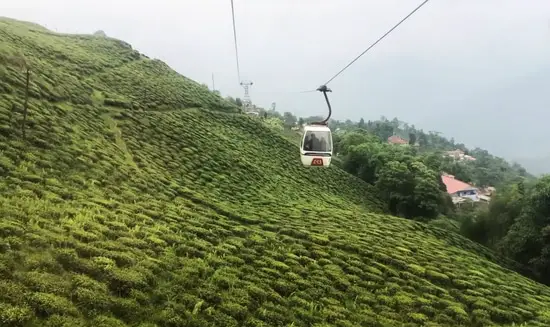 On the way get stunning views of the valley and tea gardens. Get off at Tukvar and stroll around in the tea gardens, and finally make a picnic under the sun before returning. There is no time limit yet for your return. It is alright as long as you get back before the cable car operation closes for the day. 
Mirik: Boating & Horse Riding
Mirik is a beautiful place surrounded by scenic tea gardens and having a lake as its central attraction. You can hire a private taxi and easily make a
day trip to Mirik
. It's about 50kms from Darjeeling and takes about 2 hours & 30 minutes one way. 
Boating in Mirik Lake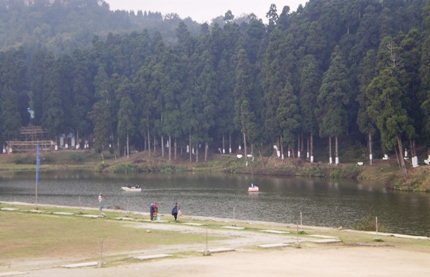 The children would love to take a paddle boat ride on this picture perfect lake which is surrounded by dhupi forest on a hilly terrain on one side and a garden on the other. 
There are ample paddle boats available on rent by the hour. There is an arching foot bridge that crosses over the lake. As you go below the bridge, you will see so many children and families standing on the bridge watching you and waving at you. 
Horse riding at Mirik (arched footbridge over the lake)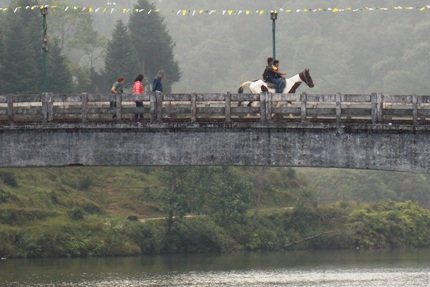 Another great attraction for children in Mirik is horseback riding. You will find many pony and horse rides in the lake area. In fact as soon as you approach the lake, the pony owners will keep persuading you for rides. There are short and longer routes. The usual route is to go over the arched footbridge to the Dhupi forest at the western side of the lake where is there is a marked trail that goes along the bank of the lake. 
You can either plan to take your lunch at one of the several restaurants by the lake side or if you had packed your food from Darjeeling, then make a nice picnic by finding a place on the garden by the waterside. 
This is a beautiful park with lovely landscapes and manicured garden. During the day time the park is ideal to take your children where they can play badminton and stroll around in the park and soak in the lovely views all around. In the evening as it gets dark, the park is illuminated with multi-colored lights, some hidden, creating a dream ambience. During the high tourist season, ethnic cultural programs like folk dance etc take place at the park which the families can enjoy. The park is located only about 10 minutes walk from the Chowrasta Mall. 
This is a famous scenic loop that the toy train maked near the Ghoom station. This loop has been featured in a number of Hindi films. As you take a ride along the loop, you will get a panoramic view of Darjeeling including that of Hill Town as well as the snow peaks of Kanchenjunga (on a clear day though). 
Batasia Loop Darjeeling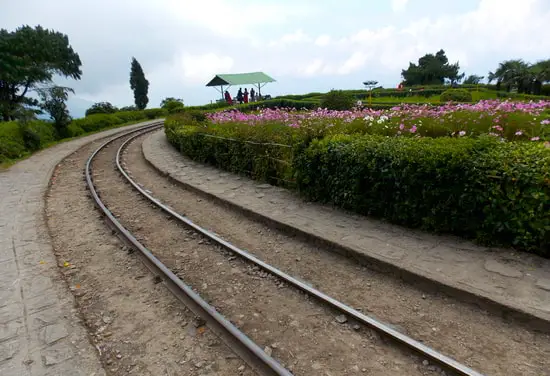 However, this loop was actually created so that the Toy Train could negotiate a sharp drop (or climb depending of its direction of journey) of about 140 feet. This along with many other loops along the toy train route were considered as Engineering marvel which eventually made it possible for the toy train to run on such steep hilly terrain. If you are planning to take the toy train joy ride, Batasia loop would be covered as part of that. 
This is the center of Darjeeling Hill Town. This is where you will find most of the families would gather in the afternoon and hang around till its dark. There are umpteen number of shops and eateries all around the Mall. You can soak in the charm of activities and views all around by sitting on one of many benches laid out on the fringes. There is even a Phuchka wala (Panipuri wala) here just next to the Hotel Sunflower. But the key attraction for the children here is the pony ride. There are lots of pony owners who will keep approaching your children to take them on a ride around the scenic Mall Road. The rates depend on how long the ride is. 
Pony Ride, Darjeeling Chowrasta Mall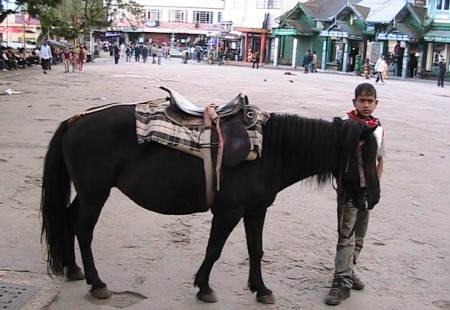 A beautiful and scenic place which is only 15kms from Darjeeling ... a stream flows through this place, there are forested mountains on both sides, there is a lake for paddle boating, a children's playground, lovely manicured gardens, a waterfall, nice walkways with gazebos to rest... an excellent place for families and kids to enjoy a day. 
Jamuni, River Rangeet and the central round lake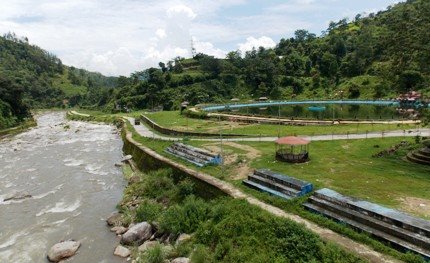 Here you will come to see and know all about animal and bird life of Darjeeling and Bengal in general along with its natural landscapes. There are large number of specimens kept from animal and bird life which are all real creatures that have been stuffed and preserved. Your children and kids will be amazed to see such collection that includes even a large crocodile and many other stunning animals and birds that you will hardly get to see anywhere else in the world. 
Related Articles
Visitors' Reviews/Comments
Share your experience or stories.