Tour of Rishyap or Rishop
Rishop (also known as Rishyap) is a tranquil, small rural settlement of the Lepcha community in the mountainous landscape at an altitude of 8,500ft. It is only about 28kms to the east of
Kalimpong
.  
From Lava, there is an uphill motorable road of 11kms and also a trekking trail of 4kms leading to Rishop. Rishop actually is an integral part of the well known Neora Valley at the foothills of Tiffindara. 
Forests on the way between Lava and Rishop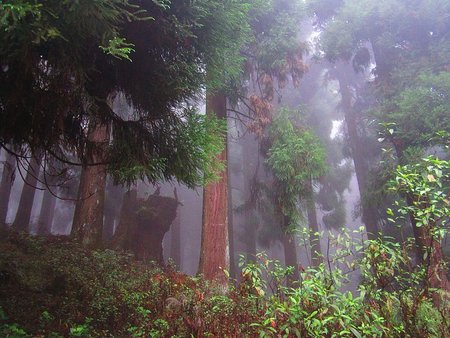 Photo: Saswatamandal, cc by sa 4.0 
Although it's a relatively new tourist destination compared to several others in the vicinity, it is still a virgin spot clothed in forests of pine, birch, fir, colorful rhododendrons and orchids with a wonderful view of the vast range of Kanchenjunga and many other Himalayan snow peaks. And this is exactly what the name 'Rishop' stands for - 'Mountain Peaks and Forests'. And at night look below, an you get amazing sights of the sparkling lights of Gangtok and the small town of Pedong. 
And that is all what you can expect to get there. You won't get any city or town life. Which means no restaurants, drinks, food stores or shopping. It's only the nature. 
So if nature is all what you get in Rishop, let's try to take an account of that. As I had mentioned earlier, from most places in Rishop you get wonderful views of the Himalayan mountains, and there are some spots that offer you sweeping views of the snow peaks over a vast stretch of snow. 
Kanchenjunga view from Rishop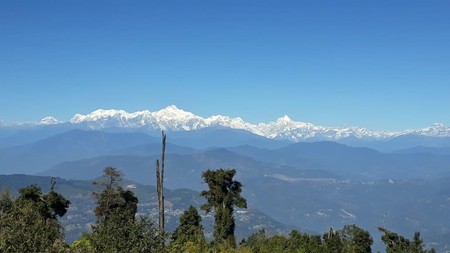 And from one such spot like Tiffindara if you look around, you will get to see (from left to right) Mt. Kharg, Kokthang, Rathung, Kabru, Talung, Pandim, Kanchenjunga, Simvo, Narsingh and Mt. Siniolchu. 
You will also be able to see some parts of the famous Nathula and Jelepla passes. And you will be among the dense concentration of pines, birch, fir and orchids. So if you are a nature lover, then Rishop is one place which you should keep in your agenda. 
Attractions in and around Rishop
Note that most of Rishop doesn't have motorable roads. So your only option is to walk and trek around to visit the nearby attractions. 
Tiffindara is a view point for watching sunrise & sunset and about 1.5 kms of uphill trek from the base of Rishop. You walk through the forests of birch, fir, pine and rhododendrons as you hear the chirping of the birds. It's a narrow forested trail and should be avoided during the monsoon. 
There are few places along the way where bamboo made benches are provided (now in bad conditions though) where you can take rest before you start your climb again. 
Likely there will be some stray mountain dogs accompanying you and showing you the way. It takes about 40 to 45 minutes trek to the top. And the top is like a flat rocky platform created as a view point. And here on a clear day your hard work will be rewarded with a panoramic view of all the Himalayan peaks I mentioned earlier including that of  Kanchenjunga. During sunset you can see the gold capped peaks with a play of rainbow colors. Try to carry trekking stick. 
View from Tiffindara View Point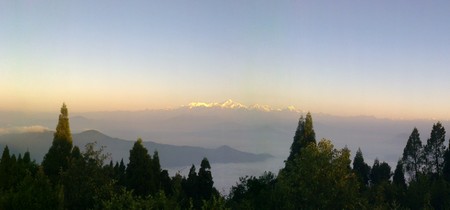 Photo: Arindamphotos, cc by sa 4.0 
At Rishop you can also walk down to Shiva Buddha Temple located in Seole village. Seole is at an altitude of 8450ft and is the second-last village in the state of West Bengal before one reaches the Sikkim border. As you climb up the red staircase and get to the temple building, you will see idols of Lord Shiva and Buddha mounted side by side. 
Shiva Buddha Temple, Rishop 
Trek along the Neora Valley forest and reach Jorpokhri (a twin lake). 
Other than Rishop itself, another popular settlement in Neora Valley is the small sleepy village called Kolakham in Kalimpong district which is located at the entry to the Neora Valley National Park and is about 4kms from Rishop. Kolakham is located at an altitude of 6,500ft and is surrounded by pine, rhododendron and oak forests. There are several budget resorts (including cottages and eco huts) in Kolakham which are availed by tourists who wish to explore the national park and stay there overnight to enjoy the forests.  
The wonderful Changey waterfall with water gushing down from high above is 4.5kms from Rishop. Vehicles can't reach all the way up to the fall. You will need to walk down a steep trail (for about 20 minutes) to get to the waterfall. But once there, it's a heavenly feel amongst nature and roaring sound of the gushing water. Most parts of the roads to both these places (i.e. Kolakham and Changey Fall) are boulder roads and require Jeep type vehicles. 
Changey Waterfall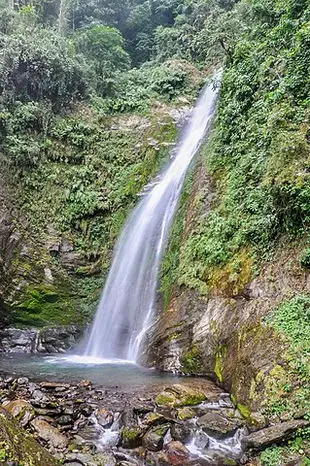 Photo: Joydeep / Wikimedia Commons 
The small Lepcha villages of
Lava and Lolegaon
can be reached from Rishop by car. Lava is only 11kms away (a boulder & bumpy road and requires a Jeep type vehicle, and takes about 35 minutes). You can also trek (downhill) to Lava through forests of birch, pines and rhododendrons. 
The trekking distance is 4kms and takes about 2.5 hours. Lolegaon is another 1 hour drive from Lava. Both these tourist spots are known for their unique forest settings where you can be amidst mountainous flora and fauna. In Lava the main attraction is the Lava Monastery while in Lolegaon you can't miss out on the forest Canopy Walk. It's a great day trip from Rishop. 
Pedong
is another small village at a 1-hour driving distance away. The main attraction being the nearby Damsang Fort. This fort was built in 1690 and is in ruins now. This was once the site of war between the Lepchas and Bhutias. The importance of Pedong is that it is the gateway to Tibet from India through Jelepla Pass. 
Rishop weather and best time to visit
Summer time is between mid-April to mid-July when the temperature varies between minimum of 10°C to a maximum of 20°C. This is a great time to visit Rishop as the temperature is mild, rhododendrons & orchids are in full bloom, sky remains generally clear and you get marvelous views of the mountain peaks. Winter time (December to end February) is very cold and the temperature varies between 0°C to 6°C. 
The autumn which is October to November is also another great time to visit Rishop. Although you won't see flowers during this time, the views of snow peaks are awesome. It's better to avoid the rainy season during July-August as landslides are common and there are chances that you may get stranded if that happens. 
How to reach Rishop
From NJP railway station, Rishop is about 110kms via Kalimpong and 120kms via Gorubathan. Distance from Bagdogra airport would be an additional 10kms. It takes about 4 hours to reach Rishop from NJP. From Kalimpong the distance is about 28kms via Algarah. As you take the main highway from Kalimpong, after Algarah a steep gravel road goes up towards Rishop. And you should ideally take a vehicle like a Jeep to negotiate this highly bumpy gravel road. 
On the way to Rishop from Lava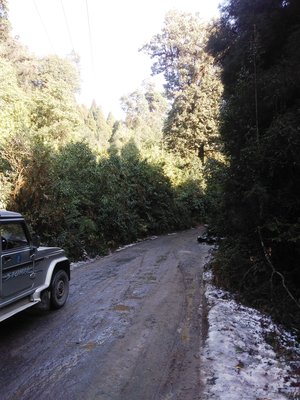 If you are going via Lava, there is an 11km road between Lava and Rishop. This road also requires a Jeep type vehicle. Soon the road becomes a gravel road full of boulders and the ride will become very bumpy. However one incentive is you will get a glimpses of step-farming along the way where potato, maize and cabbage are cultivated. Locals depend mostly on these for their livelihood. 
And if you like to trek, there is also a quiet 4km uphill trekking trail from Lava to Rishop passing through forests of pine and birch with many orchid plants all around. It takes about 3 hours of leisure trekking between Lava and Rishop. 
From NJP and Bagdogra, you will get ample reserved taxis (pre-paid or otherwise). You can also alternatively take a shared Jeep from NJP or Siliguri and come up to Kalimpong and then take another shared taxi up to Lava. From Lava you can get shared vehicles operated by local syndicate to Rishop. 
Indicative Fares
(Fare updated: March 2021) 
NJP or Bagdogra to Rishop: Rs. 3,700 by Sumo 
Rishop to Lava: Rs. 1000 by Jeep 
Rishop to Changey Waterfall by Jeep: Rs. 1,500 
Rishop to Lava and Loleyaon round trip by Jeep: Rs. 2,500 
Rishop to Kalimpong – Rs. 2,200 
Accommodations in Rishop
You won't find star rated resorts or hotels in Rishop because the profile of people who come here are not typically luxury travelers, they are mostly nature lovers. And to them luxury is not a priority when nature is in abundance. If you too are one of them, then use the search box below to see some of the best stay options in Rishop and nearby areas. 
Here are some nice lodgings in Rishop. 
Hotel Sonar Tari 
(Category: Budget) 
All seven rooms in the hotel are view rooms with wonderful view of Kanchnejunga. The 3 rooms in the uppermost floor (i.e. 2nd floor) are the best. There is also a 3-bedded room in the ground floor.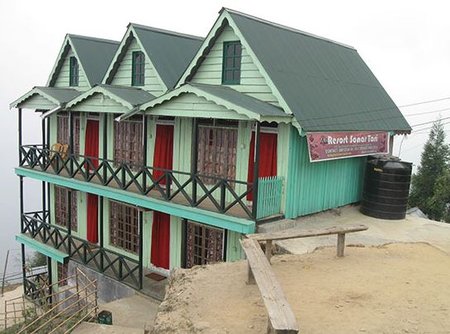 Photo: Hotel Sonar Tari, Rishop 
Rooms are wood paneled, carpeted, have LCD TV with cable channels, attached toilet with geysers and intercom facility. Cars can reach all the way up to the hotel. There is a dining room which offers nice Indian and Chinese food. Room service, generator backup, car parking space and 24hours security are also available. 
Phone: (+91) 8001233431 / 8001233610 / 8017195512 
Lovely Homestay 
(Category: Budget) 
Here you get cottages - two and four bedded. Great views of the mountain ranges from all the cottages. The ones at the backside have excellent view of Neora Valley forest as well. Cottages have attached bath and color TVs. The in-house dining offers Indian and Chinese dishes. Room service and car parking are available.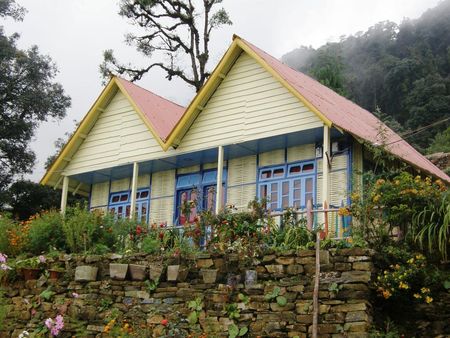 Photo: Lovely Homestay, Rishop 
Address: Main Road, Rishop, West Bengal 734319 
Phone: 098360 87652 
Golden Sojourn 
(Category: Budget) 
A resort type accommodation located on a hill top with several categories of rooms including double bedded, triple bedded and even duplex rooms. All rooms are wood paneled, have color TVs, carpeted and with attached bathrooms. All rooms have wonderful view of the mountain range. Although there are no geysers, hot water is supplied. The in-house restaurant prepares Indian and Chinese food. Car parking and front desk are available. Campfire can be organized on request. 
Related Articles
Visitors' Reviews/Comments
Purnata Bhattacharya (May 2021) 
What an interesting blog with lovely pictures! Reading your blog took me back to the days when I went to Rishyap for a short trip. Last year after the travel ban was removed by the government, I along with few of my close mates, planned a trip to Rishyap. 
We were searching for a hotel which was both clean with a good location as well as budget friendly. After a lot of research, we booked our 3 nights stay in Rishyap at Rosedell Inn. All of us were so thrilled when we reached the hotel. We were warmly welcomed by the staffs. The rooms were clean and spacious with decent decor. We requested them to arrange a camp fire for us with music and food. 
We had great time which was much needed after staying indoors for months. Our hearts were filled with satisfaction with their hospitality. If you visit Rishyap and are looking for an affordable hotel with a beautiful environment then you can definitely choose Rosedell Inn. 
Chandrima Das (February 2019) 
Dear Raj, first of all thank you for providing such valuable information. I'm visiting Darjeeling & Rishop first time with my family in March. I made itinerary based on your site. I have a small query and I need your advise. We are going to Rishop from Darjeeling via Kalimpong as you have suggested. But we are really tight on budget. And I have problem with my leg, so trekking from Lava is out of my reach. So kindly suggest a route where we can travel on budget and not strain my leg too much. We are four people including my mom. Thank you again.  
Raj (darjeeling-tourism.com) February 2019 
Hi, you can get shared taxis (jeep type vehicles) from Kalimpong (taxi stand at the market area) up to Lava and then another one from Lava up to Rishop. 
Apurba Das (January 2019) 
Hello Raj, Need your guidance....if you can let me know the travel time from Rishop to Changey falls and back.....we are arriving at New Mal Jn on 03.04.19 and will proceed to Rishop. After lunch we wish to visit Changey falls ...so to and fro travel time is required. Is it possible??... your guidance is urgently required . 
Raj (darjeeling-tourism.com) January 2019 
Hi, from Rishop the distance to Changey waterfall is about 4.5kms, but from the last motorable point you need to hike on a steep trail for about 20 minutes to reach the fall. The motorable route is a boulder road for most part and requires a Jeep type vehicle. You can make the trip after lunch. 
Soumya Chakraborty (March 2018) 
Hello Raj, Starting with huge thanks, as previously I was very much benefited by your guidance for my Sikkim trip. This time I am going for Rishop and need your help eagerly. My query is what would be the possible shared cars or private or government bus options for reaching Rishop from NJP, for limitation of budget. Break journey is not a problem for us. Please suggest how I can get shared jeeps or buses for Lava or Rishop. Waiting for your guidance. Thank you. 
Raj (darjeeling-tourism.com) March 2018 
Hi, take a shared taxi/jeep from NJP to Kalimpong (if not available then from Siliguri opposite to central bus stand. You can also get a bus here for Kalimpong). From Kalimpong taxi stand check if there is a shared Jeep to Rishop, if you don't get one, then take one to Lava, and from there another one to Rishop. Shared jeeps also ply from 'Darjeeling More' at Siliguri to Lava. 
Soumik Banerjee (November 2016) 
Hi Raj, Please let me know whether I will get any shared Jeep or Car from NJP or Siliguri to Rishop? I am reaching NJP on 11th of November this month. 
Raj (darjeeling-tourism.com) November 2016 
No you won't usually get any shared vehicle from NJP/Siliguri to Rishop. 
Krishnayan (March 2016) 
Hi Raj, Planning to visit Kalimpong-Darjeeling during first week of June this year. I have heard and read so much about Lava-Lolegaon and Rishop . Just wondering whether it would be a good idea to make that uphill trip to Rishop with my 4 year old daughter. I am not sure whether there is any specific age related restriction circulated by WB Forest Department or local authorities. Your suggestion would be of much help. 
Raj (darjeeling-tourism.com) March 2016 
Rishop is not a place for day trip. Tourists visit the place for nature and views, and it requires walks to get around. There is no restrictions for kids as long as you manage on your own. 
Anurag (November 2015) 
Sir, I have benefited extremely from your lovely site, especially due to the fact that it always remains so updated. And first of all I want to thank you for that. 
We are a group of around 7 to 8 friends. We wish to reach Rishop from Darjeeling and our biggest constraint is Budget. I am informed about reaching Kalimgpong from darjeeling, and then taking another shared jeep to lava, from where we will have our pleasure walk to Rishop. But i was hoping that if there are share jeeps availability from Ghum to Kalimgpong, we would have a chance to enjoy the toy train (diesel) ride to Ghum and then Ghum to kalimgpong. Can you suggest me the feasibility and the cost of the journey per person. Extremely grateful. 
Raj (darjeeling-tourism.com) November 2015 
All shared jeeps leaving Darjeeling for Kalimpong pass through Ghum. But there may not be that many seats available at Ghum. Shared jeeps also leave from Ghum to Kalimpong occasionally (no fixed timings). Fare would be about 150 per person. If you don't get a jeep from Ghum, take a shared jeep back to Darjeeling motor stand at Chowk Bazaar (20-25 minutes) and then take a shared jeep for Kalimpong. You will waste about an hour going back and fro, but that's okay.