Trek from Srikhola to Sandakphu & Phalut
The trekking route I am suggesting below is possibly the best option now for the discerning trekkers wanting to trek to Sandakphu and Phalut. This is because the original and once the most popular
route from Manebhanjan to Sandakphu
via Meghma, Tumling and Gairibas is fast becoming congested, particularly after increase in vehicular traffic along that route all the way up to Sandakphu. 
Fortunately, there is no motorable road on this part of Singalila National Park once you go past Srikhola and you can trek in complete peace and solitude with lovely scenic nature as your company. You might only be meeting a few other trekkers coming from the other direction. 
Get to Srikhola
From NJP or Bagdogra you can get a reserved taxi up to
Manebhanjan
, otherwise get one up to Mirik and then change to another one for Manebhanjan. It takes about 3.5 - 4 hours to get to Manebhanjan from NJP/Bagdogra by a reserved car. From NJP, you can also get shared taxi up to Mirik Bazaar and then change to another one for Manebhanjan via Sukhiapokhri. From Darjeeling, Manebhanjan is only 1 hour 15 minutes away (26kms). You will get both shared and reserved taxi from Chowk Bazaar stand. 
GTA Lodge next to Srikhola River in a scenic location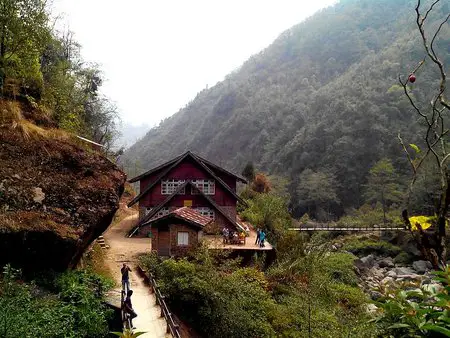 Photo: Wikimedia Commons 
From Manebhanjan, Srikhola is about 50kms away and takes about 2.5 hours by a vehicle. The route passes through Dhotrey (about 19kms from Manebhanjan) and Rimbik (7kms before Srikhola). 
Srikhola is a picturesque tiny village at an altitude of 6,900ft and surrounded by mountains and forests. A stream also named 'Srikhola' flows through this village in a scenic setting. Actually the village has been named after the river. In local Nepali dialect, khola means a river. The tarred road from Manebhanjan ends at Srikhola... shortly thereafter, there is no further motorable road. 
You should stay at Srikhola overnight and start your trek next morning. There are several private lodges here as well as a GTA Lodge run by Gorkha Territorial Administration (GTA) of Darjeeling district. The GTA lodge is the best accommodation here with the Srikhola river flowing right next to it. 
Guide and/or porter is mandatory for a trek to Sandakphu and Phalut. You can hire a guide and porter from
Guide and Porters Association
located at Dhotrey. Note that the trek route passes through
Singalila National Park
and you need to obtain park entry permit. You can get this permit at the Dhotrey Forest Check Post or alternatively at Manebhanjan Forest Check Post. 
Permit fees, GTA lodge booking procedure, and other costs of trek are mentioned in a separate section below. If you want to get everything pre-arranged, it is better to do the trek through a Darjeeling based reputed trek operator. Go through the
Best Trek & Tour Operators
to get their details. 
Day-1 Trek: Srikhola to Sandakphu
This is an uphill route that ascends to an altitude of nearly 12,000ft over 16kms. It will take about 7 hours of trek including breaks in between. The route passes through forests of chestnuts and oaks and you can also see lovely flowering rhododendrons during April to May. 
In about 3kms you will pass through Timburey Village - a tiny settlement. There is a camping ground here. And after 6kms of hike from Srikhola you will reach a beautiful scenic village Gurdum located in a valley. There are only handful of village families who live here. The river flows through the valley in a picturesque setting. Spend some time here to enjoy the views and the ambience before moving on. 
Gurdum Valley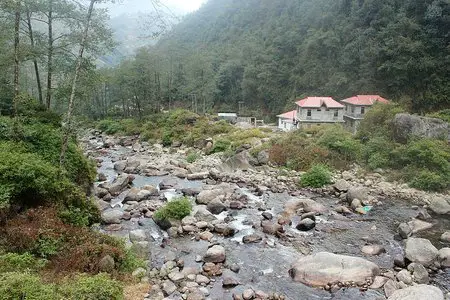 Photo: Wikimedia Commons 
From Gurdum, Sandakphu (located at an altitude of 11,929ft) is 10kms away. The trail ascends mainly through forested area. If you are lucky, you can see some Himalayan high altitude small animals along this stretch. Some of such animals include Red Pandas, Pangolins and occasionally even black bears. 
You should stay overnight at Sandakphu. There are several hotels and lodges here including a GTA operated trekkers hut. Get up early in the morning and if the sky is clear, you can see a long stretch of the Himalayan range with four of the five highest peaks in the world including Everest, Lhotse, Kanchenjunga and Makalu... it's an amazing sight. Go through
Sandakphu Information
to know about what to expect in Sandakphu, accommodation for trekkers and other useful information. 
Kanchenjunga view from Sandakphu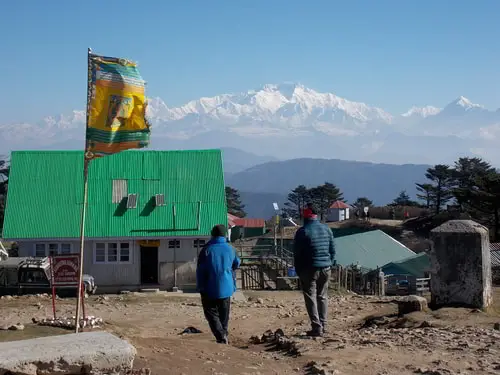 Day-2 Trek: Sandakphu to Phalut
Phalut is 21kms away from Sandakphu and located at an altitude of 11,811 ft. Being at similar altitude as Sandakphu, the route is fairly leveled although there are some uphill and downhill sections along the way, but the last 1km is a steep uphill stretch. The trail passes through forests of oaks, chestnuts, silver firs and rhododendrons and offers magnificent views of the mountains. 
View of Sleeping Buddha Range from Phalut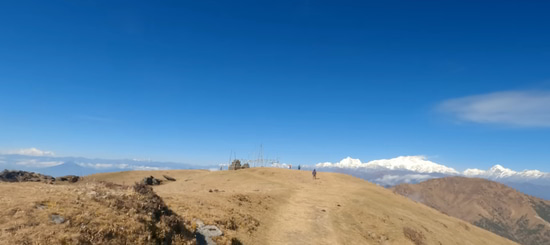 Source: Wikimedia Commons 
There is only a GTA trekkers' hut at Phalut and no other accommodation. So, advance booking is very important. You will stay overnight at Phalut and next morning get even a closer views of the snow mountains that you saw from Sandakphu, particularly the 'Sleeping Buddha' range. 
Day-3 Trek: Phalut to Gorkhey
This is a 15km (about 5 hours) downhill trek through forests of bamboo, pine, chestnuts, hemlock, oaks and rhododendrons. The route mostly passes through dense forests and descends quickly to Gorkhey located at an altitude of 7,700ft. The steep downhill gradient can be taxing on your knees. As you will be walking mostly through dense forests, the trek can get a little monotonous. 
Gorkhey Village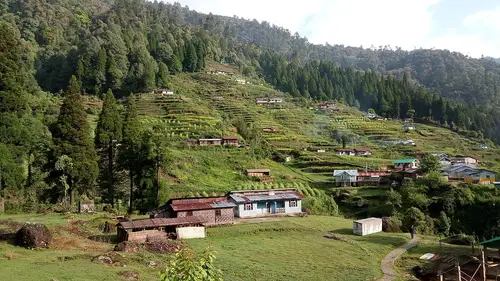 Source: Wikimedia Commons 
However, once you reach Gorkhey, the rewards are awesome. It's a small village perched in a beautiful valley with scenic views of mountains all around. The stream Gorkhey khola flows through this village. There are some 30 odd village families who live here, few of them offer basic lodging to trekkers and no prior booking is required. There is also a GTA trekkers hut located at Gorkhey. 
Day-4 Trek: Gorkhey to Ribdi
This is a short 5km trek and will take about 2.5 hours of hike. In fact, if you are short in time, you can skip overnight stay at Gorkhey and easily continue the trek on day-3 to reach Ribdi. 
From Gorkhey the trail initially goes a little uphill. About 1km away you will reach the lovely village called Samanden located in a picturesque plateau and fringed by pine forests. 
Samanden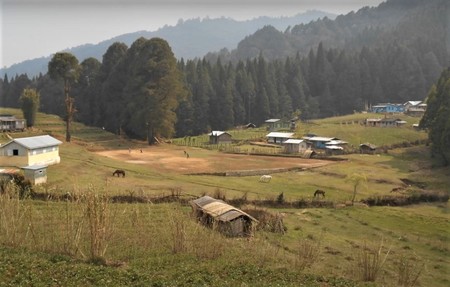 At the first sight a thought would surely pass through your mind... if you could stay here overnight instead of at Gorkhey. The good news is it's possible to stay here overnight and enjoy the wonderful serenity and scenic views. You can see horses grazing in vast open stretches of grassy land and children playing on a small field. Few villagers offer homestay lodging and you can stay with them. Villagers here are friendly and welcoming. Electricity has recently reached Samanden, so that's an added bonus. 
Trail passing over a bridge across a stream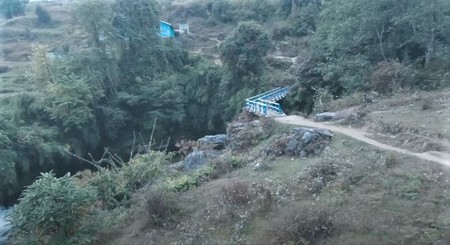 From Samanden the trail will gradually descend to Ribdi which is another 4kms away. You will mostly walk through open spaces along zig zag route offering great views... some parts of the route will also pass through forested areas, and there will be waterfalls on the way as well as stepped walkways... you can get several photo opportunities on this trail. 
View of a section of trail between Samanden and Ribdi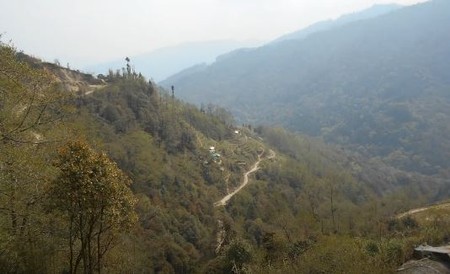 Ribdi is a village in West Sikkim at an altitude of 5,760ft. If you reach there by noon, you can get shared taxis to Jorethang, otherwise you can get a reserved taxi. Jorethang is 44kms away and takes 1 hour 45 minutes by a cab. From Jorethang taxis are available for NJP (3 hours) and Bagdogra (3.5 hours). You can also get shared taxis from Jorethang up to Siliguri during the day time. 
NOTE: 
The entire trek route described above can be completed in 3 to 4 days time starting from Srikhola and exiting at Ribdi. However, if you want, there are other variations of the route... from Gorkhey, instead of going to Ribdi, you can take another trail towards Rammam, proceed further and finally return to the starting point at Srikhola (21kms downhill trek, takes about 7 hours). Alternatively from Phalut, there is a route that goes over Singalila Pass all the way to Uttarey in Sikkim (requires additional 2 days). 
Trek Costs & Logistics
Fare Updated: November 2020 
Singalila National Park entry fee: Rs. 120/- per person per day of stay inside the park. The fee is Rs. 500 per day for foreigners. 
Still Digital Camera: Rs. 100/-; Video Camera: Rs. 400/- 
Cost of food along the trek route would be around Rs. 500 - 600 per person per day. 
GTA trekkers Hut booking can be done by visiting any GTA Tourism Office. There is no system of online booking. Go through Darjeeling Tourism Offices to get address and contact details. 
Most private home stays take walk-in guests if available. Rate of dormitory bed in trekkers huts  = Rs. 200-300 per person per day. 
NJP/Bagdogra to Manebhanjan: Rs. 3,200/- for reserved small car. 
Darjeeling to Manebhanjan shared Jeep fare: Rs. 60/- per person and reserved small car fare: Rs. 1,400/- 
Ribdi to Jorethang shared taxi fare: Rs. 175 per person. 
Ribdi to Jorethang small reserved taxi fare: Rs. 2000 per person. 
Jorethang to NJP shared taxi fare: Rs. 250 per person. 
Jorethang to NJP small reserved taxi fare: Rs. 3,000 per person. 
Rate for a Guide (if taken from Manebhanjan) is Rs. 1000 per day for Indians for up to 7 persons in the group, thereafter Rs. 150 per additional person. Guide rate for foreigners is Rs. 1200 per day for a group of up to 7 persons, thereafter Rs. 300 per additional person. 
Rate for a Porter is Rs. 800 per day + Rs. 200 for food at Sandakphu and Phalut each.  
Guide & Porter rates are all inclusive. One porter will carry up to 20kg of load. 
Several lodges along the way use solar power or generators and allow you to charge your mobile phone, camera battery etc at a small nominal charge per hour (indicative Rs. 10-15 per hour). 
If you want avoid the hassle of doing all the above yourself, pay a little premium and go through a good trek operator. Visit Best Trek & Tour Operators to get their details. 
Related Articles
Visitors' Reviews/Comments