Best time and places for views in
Darjeeling and Gangtok
When you say 'views' you must be meaning views of Kanchenjunga snow peaks, right? I can hear you saying 'Of Course'. Well if that's the case, then let's first start talking about the best time in the year to get such great views. Because the treasure peaks do not always show up and that too whenever you like them to. 
To see the snow peaks, you need clear sky during the day and that's something which is not easy to get in Darjeeling or Gangtok if you land up in the wrong month. You will then end up seeing only a white blanket of cloud ahead or a white misty fog giving you virtually no visibility beyond a few meters distance, leave aside miles of distance where the towering peaks are actually located. 
And you will need to satisfy yourself asking a local about the direction to look at, and imagine the peaks somewhere behind the clouds as you follow his fingers into the oblivion. 
But when the gigantic and magnificent peaks do show themselves, even though they are miles away they look so close and awesome! While there is never any guarantee, but if you can time it correctly, you have all the chances of watching the magnificent Kanchenjunga from several places in Darjeeling as well as Gangtok.  
Best time for views
The best time to visit to get such views would be: 
1) during the spring time, i.e. between March and April when the sky usually remains clear, and  
2) during October to December when the weather starts getting chilly and the sky clears after the monsoon. January is also a good time for the views although fog could be a problem at times. In February it starts getting foggy. 
What are the chances of view on a month 
Here is a month-wise probability of getting a clear view of Kanchenjunga from Darjeeling and Gangtok when the sky is expected to remain clear (these figures are applicable for morning hours. In the afternoon, chances of clear sky is less). 
| | | | | | | | | | | | | |
| --- | --- | --- | --- | --- | --- | --- | --- | --- | --- | --- | --- | --- |
|   | Jan | Feb | Mar | Apr | May | Jun | Jul | Aug | Sep | Oct | Nov | Dec |
| Darjeeling | 60% | 55% | 65% | 60% | 30% | 15% | 10% | 10% | 20% | 60% | 75% | 75% |
| Gangtok | 70% | 65% | 75% | 75% | 50% | 40% | 30% | 40% | 45% | 65% | 75% | 80% |
NOTE: You should try to get the views of snow peaks early in the morning when the chances of clear visibility is highest. Later in the day, often a small cloud and then larger ones start floating around the peaks and gradually the peaks get covered with clouds. 
Best view Points
Undoubtedly the best place in Darjeeling to get Kanchenjunga view is Tiger hill during sunrise. You should reach Tiger Hill by 4:30am and watch the magnificent specter of colors as they change in hue and dance on the snow peaks while the sun rises. On a clear day, you can also see Everest from here. Go through my
Tiger hill sunrise experience
As you approach the
Mall Road
(East) from chowrasta (Mall), there are three viewing galleries or view points on the right. While all are good for views, the best one is the last one which is closest to Governor's House and just above Hotel Retreat. If you walk down to this view point early in the morning, you get lovely view of Kanchenjunga range on a clear day. 
Kanchenjunga, from View Point on Mall Road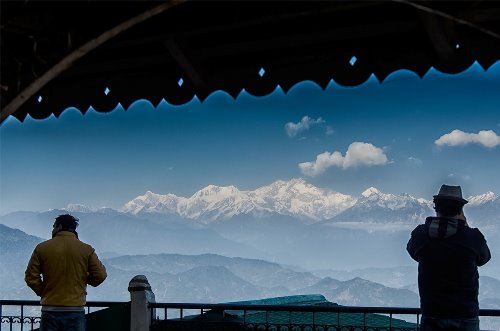 Photo given by: Suvobroto Ray Chowdhuri 
You can also get the views during the day time, but the changing colors on the snow peaks is a special sight which you can see only during sunrise. During the day time, the peaks look shiny white. 
However, there is one place which is the best of all and for that you will need to travel a little. It's
Sandakphu
. You can not only see Kanchenjunga peaks from here, this is a rare place from where you can see four of the five highest peaks of the world including Everest, Lhotse, Kanchenjunga and Makalu - all in one stretch of snow! You can't ask for more. 
In Gangtok too there are several places from where you get wonderful view of Kanchenjunga. But one of the view points which is specifically designed for such view is
Tashi View Point
, which is 15-20 minutes drive from the town center. Although you need to climb a few stairs to reach the elevated platform, on a clear day the views are awesome. 
Related Articles
Visitors' Reviews/Comments
Pratik Dutta (June 2018) 
In my opinion, another point for getting the spectacular view of the Kanchenjunga massif is from the
Nightingale/Shrubbery Park
. It is a small walk from Raj Bhaban along the road leading to HMI/Zoo (Hooker Road). A climb up leads to the open park on the top. The park itself is nicely maintained and the view from there is mesmerising. 
Rajesh (January 2017) 
I have already visited your website many times and must admire the contents. Need your help. 
1) Where to get the closest views of Kanchenjunga Range (without trekking or at the most 1 day trekking), including Sikkim? 2) What are the chances of getting clear skies and good mountain views in 1st week of May'17 in Darjeeling / Sikkim area (tickets booked)? 3) If we choose Sandakphu (and by jonga) and trek only from Sandakphu to Phalut, would that cover the best mountain view points of the area? 
Your guidance would clear help me decide many things. As you may have understood, my long lasting dream is to get heart full of the Kanchenjunga Range with family and we have not done any trekking before. :-) Thanks a lot in advance. 
I am from Kolkata and a Goethals (Kurseong) pass out of 1979 batch. 
Raj (darjeeling-tourism.com) January 2017 
Considering typical tourist hill stations, Pelling would offer a close view of Kanchenjunga although Darjeeling too offers a nice view. Sandakphu to Phalut stretch is great for viewing both Kanchenjunga and Everest range. From Phalut, you can get the closest view of Kanchenjunga. May first week is a good time to go for the views, but you also need some luck to get the best possible views even on a clear sunny day. 
While the peak may be visible, a small stray cloud can keep the peak partially covered, and as your frustration grows, so does the cloud in size. It happened to me many times, and I had to go back to Sandakphu for the third time to get my best shot. So be patient. 
Debopriya Banerjee (November 2015) 
Dear Raj, I do not own the card, but we will order one in a day or two. I am reading your site for the past few days and found it extremely helpful. We are planning a trip in the first week of Jan, 2016. You had mentioned that sometimes it can get foggy in Jan. I know that weather is very erratic there. Just wanted to know what are the chances of viewing in the first week of jan. I know u cannot give a definitive answer, but still wanted your inputs. I regularly visit the north east Himalayas, usually in November and had enjoyed amazing view earlier. This is my first time in Jan. 
Raj (darjeeling-tourism.com) November 2015 
About 60% of the morning hours during January remain clear on an average. So there is good chances of views, but not as much as November or even December. 
Boris (November 2015) 
Dear Raj, I am planning to travel to Darjeeling/Sikkim for three days/four nights during January 24th-27th of 2016. I've heard that the winters there are very cold, but if I bring warm clothes and come prepared I won't be concerned. My dream throughout my life has always been to see the majestic himalayas in person, so I would like to know what the weather forecast might be like at the Tiger Hill and Jhandi Dara viewpoints, because I would love, let it be cold, to see Mount Everest and Kanchenjunga when the skies are clear is a mesmerizing feeling I am sure. Please let me know if the month of January in general is a dry season and a good time to see the Himalayas, thanks! 
Raj (darjeeling-tourism.com) November 2015 
Hi. it can get foggy at times in January blocking the views. February is worse, while December is usually good. No safety issue as such in traveling alone.... just avoid getting friendly with strangers and book your car through an operator or hotel.